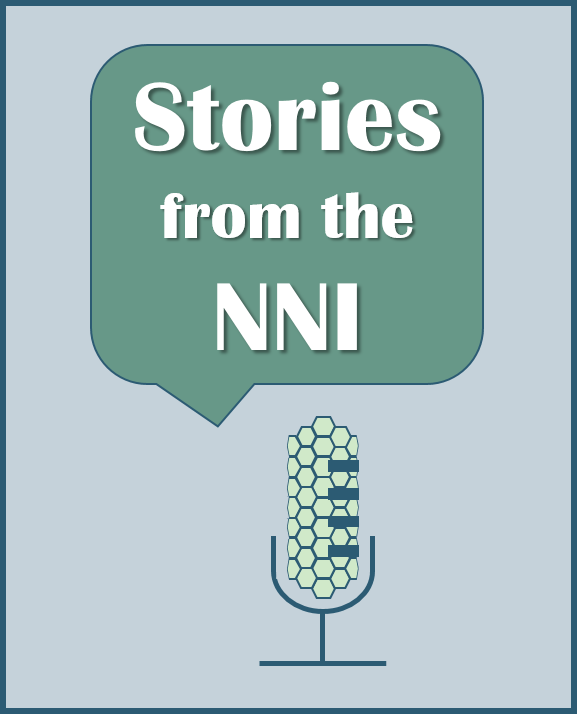 This podcast series features voices from the National Nanotechnology Initiative (NNI). Researchers and innovators discuss their work at the nanoscale, the challenges they've faced, and how they've connected with the NNI. If you want to learn more about nanotechnology, visit www.nano.gov or email us at info@nnco.nano.gov and check back here for more stories.
If you'd like to share your story, please contact us at info@nnco.nano.gov.
Episodes:
| | | |
| --- | --- | --- |
|   | Jim Phillips talks about the importance of securing your IP, and the "astounding" new capabilities that will be enabled by nanotechnology. | |
| | | |
| --- | --- | --- |
|   | We continue our conversation with Paul Westerhoff, Deputy Director of the NSF-supported NanoSystems Engineering Research Center for NanoEnabled Water Treatment Technologies (NEWT). He discusses the need for interdisciplinary collaboration to help solve big problems and how his thinking has changed on the use of nanotechnology to purify water. | |
| | | |
| --- | --- | --- |
|   | For World Water Day, Dr. Paul Westerhoff discusses using nanotechnology to purify, polish, and remove pollutants from water. He also talks about bringing clean water to places that are off the water grid. | |
| | | |
| --- | --- | --- |
|   | Dr. Teri Dankovich discusses building her company, how useful universal threads on soda bottles can be, and using nanotechnology to provide cheap clean water globally. | |
| | | |
| --- | --- | --- |
|   | Dr. Evangelyn (Vangie) Alocilja discusses saving lives, letting go of "fancy designs" to make technologies that work where they need to, and the importance of international collaborations. For more information on the NNI's work on sensors, please check out www.nano.gov/SensorsNSIPortal. |   |
| | | |
| --- | --- | --- |
|   | Liz Kunz Kollmann discusses the impact of the NSF-funded Nanoscale Informal Science Education Network (www.nisenet.org), helping people to increase their understanding of nanotechnology, and finding the Goldilocks of museum exhibits. |   |
| | | |
| --- | --- | --- |
|   | Dr. Philip Wong talks about electronics that are small enough to fit inside a living cell, the importance of taking coffee breaks, and the need for whole new computer architectures to realize AI. |   |
| | | |
| --- | --- | --- |
|   | In this bonus episode of Stories from the NNI, Dr. John Rogers discusses replacing batteries with the energy harvested from the body, and working with a multidisciplinary group to determine how much power a beating heart produces.  |   |
This episode continues our conversation with Sara Brenner from SUNY Polytechnic Institute (SUNY Poly). She talks further about the connections between exposure science and toxicology, and ponders her next big research challenge.

 

 
Dr. John Rogers compares the geometries of human-made circuits and the brain, shares his motivation for licensing his research, and jokes about the peril of mentoring too many undergrads (he writes a lot of letters of recommendation!).   

 

 
Dr. Sara Brenner, a preventive medicine physician at SUNY Polytechnic Institute (SUNY Poly), chats about studying engineered nanomaterials as they relate to worker health and safety, preparing students to blaze their own trail, and how the interdisciplinary nature of nanotechnology could be the model for training the future workforce. And, stay tuned for the second half of our conversation, Jumping Down the Rabbit Hole: Analytical Tools for Exposure Science. 

 

 
Dr. Baratunde Cola discusses building his company, making nanotechnology seem less scary, and the need for "passion and sobriety" when it comes to the expectations of working at a small nanotechnology company. He also explains why he may be the poster child for the NNI.

 

 
Brandon Carpenter, an entrepreneur on the 2017 Forbes 30 Under 30: Science list, discusses his nanotechnology company, the challenges of moving his technology from the lab to the consumer, and the supportive ecosystem that helped him start his own company. Brandon also co-founded the Society for Emerging and NanoTechnologies at the University of Central Florida, an active group in the Nano & Emerging Technologies Student Network.

 

 
Dr. Nancy Healy has spent over a decade sharing her enthusiasm for nanotechnology with students, teachers, and the public. In this episode of Stories from the NNI, she chats about why we need a nano-literate public, the skills future scientists need, and how the National Nanotechnology Coordinated Infrastructure is a "one-stop shop" for nanotechnology. She also discusses National Nanotechnology Day on October 9th (for 10-9, of course). Do you know how quickly you can run 100 billion nanometers? Nancy asked the Georgia Tech mascot to find out.

 

 
Stories from the NNI is produced by Dr. Quinn Spadola. Music, "Overthrown instrumental version," is by Josh Woodward. Free download: http://joshwoodward.com/.
Any opinions, findings, conclusions, or recommendations expressed in this podcast are those of the guest and do not necessarily reflect the views of the National Nanotechnology Coordination Office or United States Government. Additionally, mention of trade names or commercial products does not constitute endorsement or recommendation by any of the aforementioned parties. Any mention of commercial products, processes, or services cannot be construed as an endorsement or recommendation.
I
| | | |
| --- | --- | --- |
|   | We continue our conversation with Paul Westerhoff, Deputy Director of the NSF-supported NanoSystems Engineering Research Center for NanoEnabled Water Treatment Technologies (NEWT). He discusses the need for interdisciplinary collaboration to help solve big problems and how his thinking has changed on the use of nanotechnology to purify water. | |